All Things Kids is a specialty children's toy store created and owned by my little family of 3. That's us up there. The story of our toy store is really the story of our family in America, and like all good stories, it began with the birth of a child. I'm Karen. I'm British, and my husband Christian is German. Our son Carl was born in Germany in 2005 – the year everything changed.  Shortly after Carl's birth my company sent me to the United States to spearhead a new project.
This was a dream come true for us, and we picked Austin as our new home. I jumped into my new project and Christian started  a new adventure too – being a stay-at-home Dad! With a diaper bag and a 1 year old in tow, he set out to find some cool wooden toys that he remembered playing with as a child in Germany and came back several hours later overwhelmed and disappointed by the myriad of whirring, plastic, battery driven toys he'd seen that day. Mountains of plastic, movie-branded gadgets that filled a child's mind with lights and noise and consumerism. After talking with a few other Dads he found that they were also on the search for tactile, durable, high quality toys that would engage their children's imaginations for more than just a few minutes. Christian had an idea – he asked his sister in Germany to send a few wooden trucks and fire engines and during Carl's nap times he designed an online toy store called "Carl & Me –Exceptional Toys For Boys". As Carl grew older and his developmental stages changed, more hand-crafted toys were added, always with an eye on quality and educational value. It's amazing how many great toy makers there are right here in the United States that most people don't even know about.  The web site was a hit and very soon we had a whole garage full of gorgeous, hand-crafted toys. We shipped them to far-flung destinations throughout the country – all out of our home. People really seemed to resonate with our idea for exceptional toys. We didn't know it then, but that was the beginning of All Things Kids.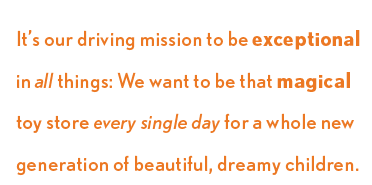 Just before Carl's 4th birthday, we discovered Georgetown, and fell in love with the Historic courthouse square. During the Christmas Stroll of 2010, (seems so long ago!)  we noticed a 'For Rent' sign in the window of a building under renovation on Main Street. We peeked through a hole in the paper covering up the windows and our lives changed again.  We had not planned on opening a brick and mortar store but we knew that this building would be a perfect home for toys. After some convincing the owners agreed to lease their building to a family from Europe with no retail experience and a big dream. All Things Kids opened its doors for business in April 2011. We opened our Domain location in September, 2013. Both locations are open 7 days a week and offer quality European and American toys, classic children's books, retro candy, exceptional customer service — and unexpectedly this:  We've become something of a community hub for families with children!
Our stores feature a large Play Zone where children can play with all of the toys and parents can work using the store's wireless internet. The Play Zone also includes an art & crafts room that we use for birthday parties, summer classes and workshops. And on Friday and Saturday evening from 6 – 10pm, we bring in licensed childcare providers so that romance-starved parent's can drop off their children for play time and treat themselves to a date night! Of course, the store is open for business every Sunday offering free family board game time!
We grew a lot during our first few years. We tweaked, we stretched, we adapted. It turns out that being the community toy store is a huge responsibility! In no small part because we all have memories of that perfect toy store that we visited as a child. That magical place.  And it's our driving mission to be that magical toy store every single day for a whole new generation of bright and exceptional children.
Thank you, Georgetown and Austin for all your support! We love you dearly, and are so very grateful to be here with you! We hope you like our store!